Working in an immigration law office one comes to appreciate multiculturalism and better understand how and why top talent from abroad would strive for temporary and permanent transfers to the United States.
So, last week, as I watched 83 representatives from across the globe compete for the Miss Universe title, I wondered how the competition fared on the global stage. Were any of our clients watching along with me? Pageants take place all over the world and, surely, draw audiences internationally.
One thing I do know is that whether one is watching the Miss Universe pageant in Puerto Rico or Pennsylvania, one thing remains the same; that audience is watching because in some way they identify with the region, values, language and culture that those delegates represent.
I'm of Hispanic descent and like many Latin American women have followed beauty pageants my whole life. It's part of our culture. Every little town or "barrio" across Latin America elects some sort of queen or princess as an ambassador. A representative of the beauty of that region.
Sure a pageant is a "beauty contest" which takes physical appearance into consideration when awarding the winner with the crown and title, but that's watering it down just a bit.
Candidates go through meticulous physical and mental training exercises, raise money, define campaign goals, civic engagement platforms. If the delegate is "elected" she (or he, remember California's Governor, Arnold Schwarzenegger, was a beauty, um, king), is given a voice to speak for publicly and the opportunity to evoke passionate interests and involvement in social and political issues.
Just as our town, state and federal representatives are typically elected because they reflect their constituents, pageant contestants are representatives of their communities and selected because they embody the people that they represent feel that they reflect their best selves, whether that be their values, culture, their appearance, or their commitment to the community that they represent. All the while maintaining an enviable appearance and regal posture.
Sure, just like some politicians and other people of power, we get a few lemons in the bunch here and there. Unfortunately, those seem to be the ones who get most of the attention. Every once in awhile, however, a leader comes along with a platform that inspires us and makes us proud.
Since Miss Mexico, Jimena Navarrete, took the Miss Universe crown in Las Vegas last week I have been following her press coverage. She quickly made it clear what she plans to promote as the world's newest Miss Universe – her home country of Mexico. "I want the whole world to know about my country and my people," the Guadalajara native said.
People are paying attention, perhaps because Mexico is center stage in the news these days; immigration, drug cartels, 200th anniversary of Mexican Independence this month (No, Cinco de Mayo is not Mexican Independence Day).
Whatever the reason, it makes me happy and proud that a fellow Latina is setting out to do what I believe the Miss Universe pageant truly intends to do. Use the international title and platform to bring awareness to the rest of the world. Miss Universe is a beauty pageant that celebrates the cultural diversity that makes up the world. It isn't about who feel in her 4 ½ inch heels on stage this year.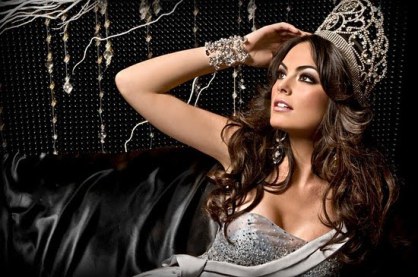 "Her triumph is a source of pride and satisfaction for all Mexicans, who see in her the fruits of perseverance," Mexican President Felipe Calderon said in a statement. Calderon said on Twitter that her victory would help Mexico's image as a country.
After the pageant, she answered questions about Arizona's recent immigration law.
"Every country has the right to impose and enact their laws," she said, wearing her new sash and sparkling tiara. "But I tell you that all the Mexicans and the Latins that are living here in the United States are hardworking people – people who want to improve on their quality of life."
Each year, these contestants and their families navigate the U.S. Immigration system in order to represent their region each year.
Miss Thailand Fonthip Watcharatrakul won Miss Photogenic Universe and a second award for having the best national costume. First runner-up was Miss Jamaica Yendi Phillipps, while second runner-up was Miss Australia Jesinta Campbell. Fakih who represented the U.S. in the pageant, a 24-year-old Lebanese immigrant from Dearborn, Mich., spurred celebrations among Arab-Americans when she won Miss USA.
Last year, Stefania Fernandez, Miss Universe 2009, was approved for a green card based on her extraordinary ability and global philanthropic efforts. Fernandez is now proudly on her way to U.S. citizenship.
This is not the first nor will it be the last time that immigration and the beauty industry collide, I'm just glad to know that platforms still exist for others to send a representative, an ambassador, to the U.S. to demonstrate the culture, beauty, diligence, and humanity, which is sometimes hard for many in America to appreciate.
Tags: beauty industry, citizenship, extraordinary ability, immigration, immigration law, immigration news, international affairs, miss universe, pageants